With its fast transaction speed and low gas fees, this layer 2 solution is one to watch.  Connect Harmony to Metamask now and find out what its all about.
November 25th 2021| Mike Humphrey
What is Metamask
Metamask is a web3 enabled browser cryptocurrency wallet.  Metamask connects with all Etherum based blockchains, including Ethereum Mainnet, Binance Smart Chain, Polygon, Arbitrum, Fantom and of course Harmony.  With a web3 enabled wallet users can engage with DeFi Apps and crypto games.  Link your wallet to protocols through their websites, and communicate directly with the blockchain.  Find out more about cryptocurrency wallets and Metamask.
What is Harmony
Harmony is an Ethereum layer 2 solution, that offers fast transaction speed and low gas fees.  Harmony began development in 2018 on the Binance Launchpad, and went live May of 2019.  Harmony supports fungible and non-fungible tokens and runs on the Ethereum Virtual Machine.  Harmony is the home of crypto game DeFi Kingdom.
Harmony To Metamask
In order to add Harmony, we will need to add it's network RPC to Metamask.  This will allow Metamask to send and receive transactions from the blockchain.
Open Metamask

Open Metamask and click the drop-down menu in the very top center of the window.  This is the network selection menu.  At the bottom of the menu you will see an add network button. Click this button.


Enter RPC Details

A new window will pop up. In this window we will enter the network settings for Harmony, including the Network name, RPC, Chain ID, Currency Symbol and Block Explorer URL. Not all of these details are mandatory, but filling them all in will make Metamask easier to use later.

The following table has the details for the Harmony network. You can copy them into the corresponding fields.  There are multiple options for the RPC and Chain ID fields; choose only one when you enter the information.  Periodically the RPC can become congested and you may need to shift to an alternate RPC.  If this happens, replace the existing RPC address with one of the alternates provided below.

Network Name
Harmony Mainnnet
New RPC URL
https://api.harmony.one
https://s1.api.harmony.one
https://s2.api.harmony.one
https://s3.api.harmony.one
Chain ID

(use number only)

Shard 0: 1666600000
Shard 1: 1666600001
Shard 2: 1666600002
Shard 3: 1666600003
Currency Symbol (Optional)
ONE
Block Explorere URL (Optional)
https://explorer.harmony.one/

The currency symbol ONE, is the token that will be used for gas fees.  The explorer URL allows you to check the status of Harmony network transactions directly from Metamask.  We recommend adding both.
Add Missing Coins
Once the network has been added it should auto-detect your coins.  If this does not happen, you can manually add coins to Metamask.  In the Assets tab, scroll down to the bottom of the list and click on import tokens.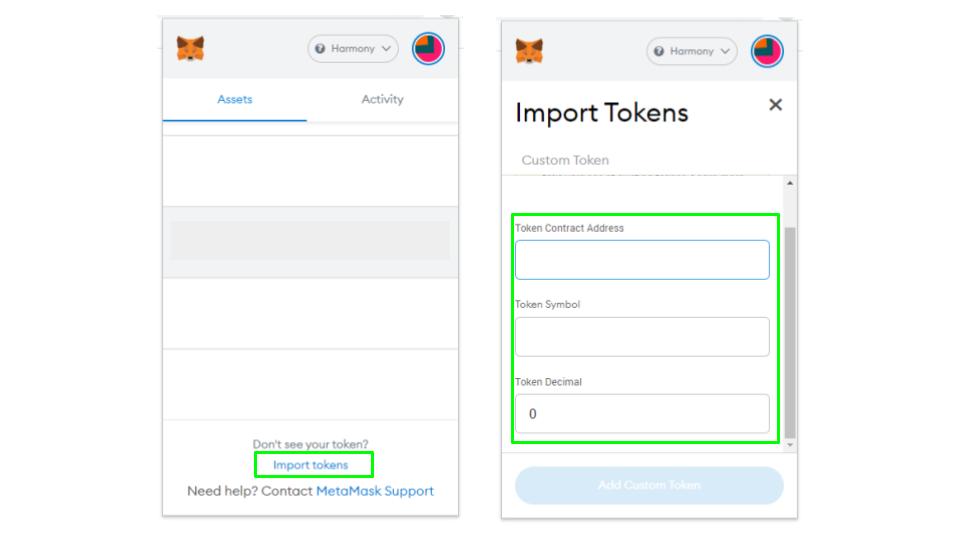 A new window will open asking for the token contract address, token symbol, and the number of decimal places.  Token addresses can be found on the Harmony Block Explorer.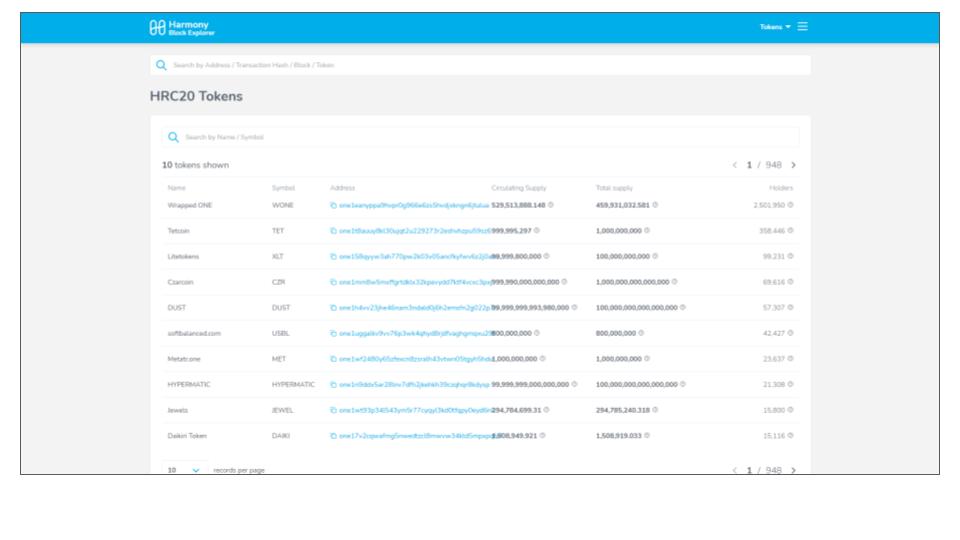 You can search for any HRC20 token by its symbol, name, or address.  Simply type it into the search bar.  Once found, copy the address of the token and cut and paste it into Metamask.  Enter the symbol, choose the number of decimal places and click add token.
What protocols most interest you on Harmony? Let us know in the comments.

Hi I'm Mike, an active crypto investor DeFi enthusiast and crypto miner. I have been involved in crypto since March of 2021 and in DeFi since May 2021.
I'm also an avid outdoor adventurer!