Tired of high cost and slow speed of Ethereum? Want to get into DeFi, but don't know where to start?  The Avalanche crypto network offers blazing fast transaction speeds and low gas fees.  Learn how to bridge to Avalanche or and Buy Avax.  Take Avalanche's thriving DeFi ecosystem.
May 19th 2022| Mike Humphrey
What is Avalanche (AVAX)
Avalanche is a layer 0 blockchain with an open, programmable smart contracts platform for decentralized applications. Launched in September of 2020 by  New York based  AVA labs, it is currently the third largest blockchain by TVL with over 200+ DApps.  The flourishing community includes platforms like Curve, Trader Joe, Pangolin, Aave and even Defi Kingdom's Crystalvale. Avalanche has been built a little differently than many of the other Ethereum alternative block chains.  It runs on the Ethereum Virtual Machine, but consists of the 3 chains that each perform different functions.  They are X-Chain, P-Chain and C-Chain.  X-Chain is used to exclusively create and exchange tokens. P-Chain coordinates Avalanche validators and creates subnets (where developers can create their own proprietary blockchains secured by the Avalanche network). C-Chain executes and allows interaction with smart contracts and Defi protocols.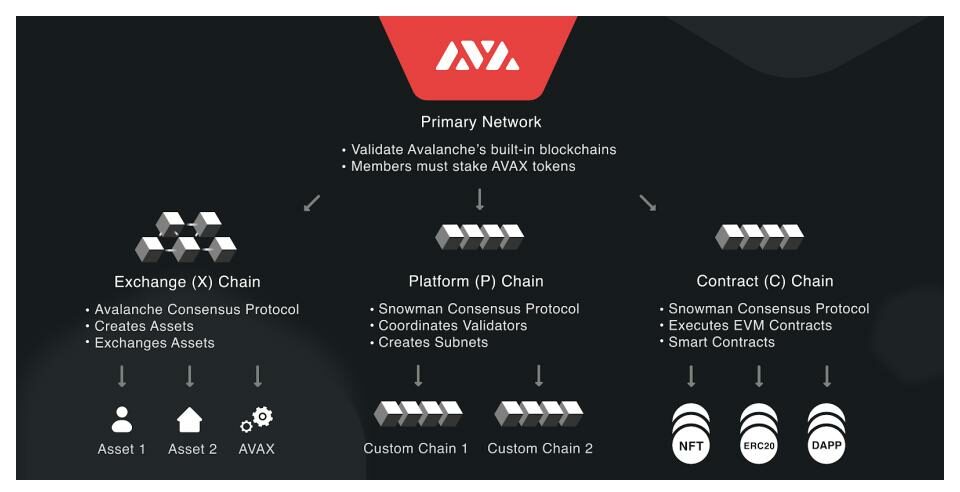 AVAX is the gas token for the Avalanche chain.  With it you can pay for transactions on the network. Below we will guide you on how to Buy AVAX and transfer it to a web wallet that will allow you to interact with the DeFi protocols on the Avalanche network.
Avalanche Wallets
Because Avalanche works on EVM, any Ethereum compatible wallet will work with Avalanche. Metamask due to its popularity and ease of use is a good choice (How to Add Avalanche to Metamask).  Below is a list of some of the wallets that will work on Avalanche.  For more information read our article about cryptocurrency wallets.  We also recommend purchasing a hardware wallet to secure your funds. Ledger and Trezor both offer Metamask compatible hardware wallets. Read our article about how to keep your crypto safe to find out what you can do to prevent your crypto from being stolen.

Where to Buy AVAX Crypto
Buy AVAX Token on an Exchange

In order to buy AVAX with FIAT you will need to purchase the token from an exchange. Once bought, you can then transfer the token from your exchange wallet to your personal wallet. There are many exchange options available including Coinbase, Kucoin, Kraken, Bitfinex and more. If you have a Crypto.com account, you can purchase AVAX directly with a credit card, bank transfer or crypto and send it to your web wallet with zero transaction cost. Below is a step by step  guide on how to purchase and transfer AVAX using the crypto.com app.  If you sign up with our link you will receive a 25USD$ credit in your account as do we.  You can read our article about how to buy crypto currency if you want to know more about the other options available. 
**NOTE:You must set up your crypto wallet on Avalanche C-Chain before you can receive your tokens in your wallet.**

Crypto.com How To

Buy AVAX

To purchase AVAX sign into the Crypto.com app, choose Accounts from the bottom bar and select buy. On the next screen search for and select AVAX.  Once selected you can then choose your payment method and the amount you want to purchase. Click purchase.


Transfer AVAX to Web Wallet

Once the transaction is complete, you will have AVAX in your crypto.com wallet. In order to use the AVAX with DeFi protocols, you will need to move the AVAX to your personal wallet. To do this again selects Accounts at the bottom of the screen and then select Transfer.  Choose to Withdraw and then select External Wallet.


Click the + icon in the top right to add your web wallet to the Whitelist and then choose Wallet Address.  You will be asked to choose which cryptocurrency you want to withdraw, select AVAX.


In the new pop-up window, choose AVAXC as the network (this will transfer your assets to C-Chain), and enter your wallet address.

**Note: if you do not choose AVAXC your tokens will be transferrred to the wrong chain!**

We recommend adding your wallet using the QR code scanner to prevent errors.  You can also add a wallet name so you can distinguish the wallet later on.  Click continue and follow the required steps.  If you have 2FA activated, you will need to enter your security code to complete the transfer.
Crypto.com will confirm the transfer and your funds will appear in your wallet (this may take some time). You may need to add the AVAX token address to your wallet before your balance is visible in your wallet.  Follow the add token section in our Add Avalanche to Metamask article

Avalanche Bridge – Transfer to Avalanche

If you already own crypto and want to transfer it to Avalanche you can bridge the assets over.  Your tokens will be wrapped into the Avalanche chain equivalent at the same value.  There are several options available to move your funds from one chain to another. You will require AVAX in your wallet before you can perform transactions on Avalanche. You can either purchase it from an exchange, or swap your tokens on another chain for wrapped AVAX and bridge the wrapped AVAX to Avalanche.  The AVAX will be unwrapped once the transfer is complete and can then be used for gas fees.

Avalanche Bridge (From EthereumMainnet)

The Avalanche Bridge can transfer ERC20 tokens from Etherum Mainnet.  The other benefit of using the bridge is that if you move 75USD or more to Avalanche you will receive an AVAX airdrop that will cover the cost of your first couple of transactions.  This means you can transfer any asset and then swap it for enough AVAX once you are on C-Chain. If you are transferring from a chain other than mainnet (Polygon, Fantom, Arbitrum, Harmony etc) use one of the other options below to avoid the high cost fees on Ethereum.

Synapse (Multi-Chain)

Synapse is a cross chain swap protocol that allows you to transfer directly from one chain to another. Synapse also has cross chain pools as well as their own nUSD & nEth wrapped tokens.  Use synapse if you have cryptocurrency sitting on another chain and you want to transfer it directly to Avalanche.

Anyswap (Multi-Chain)

Like synapse, Anyswap is a cross chain bridge that allows you to swap directly from one chain to another.
Avalanche DEX's  – Swap for AVAX Tokens
Once you have funds on Avalanche C-Chain, you will need AVAX tokens in your wallet in order to pay gas fees.  You will need to use a swap protocol to trade your bridged tokens for AVAX.  The following are some major swap protocols on Avalanche.  All three platforms offer liquidity pools, farming and staking opportunities as well.  Be sure to check out some of the great yield farming opportunities.
Welcome to Avalance
What do you think of Avalanche? Whats your favorite protocol? Let us know in the comments below!

Hi I'm Mike, an active crypto investor DeFi enthusiast and crypto miner. I have been involved in crypto since March of 2021 and in DeFi since May 2021.
I'm also an avid outdoor adventurer!