If you are a crypto miner you must know these crypto mining websites.  Use these sites to optimize your mining profits and minimize your expenses. Decide which GPU to buy next, which coin to mine, or which pool to mine to.
October 18th, 2021| Mike Humphrey
What to Mine
Whattomine.com is an invaluable website for any crypto miner.  The site has a database of both GPU and ASIC miner stats that will tell you the hash rate and power consumption for any mining rig configuration.  Simply select the number and type of GPU/ASIC, enter in your price of power, and click calculate.  The crypto calculator will tell you the daily profitability for your set-up based on current coin prices.  You can find out which crypto coin is the most profitable to mine, and which mining equipment will make you the most money.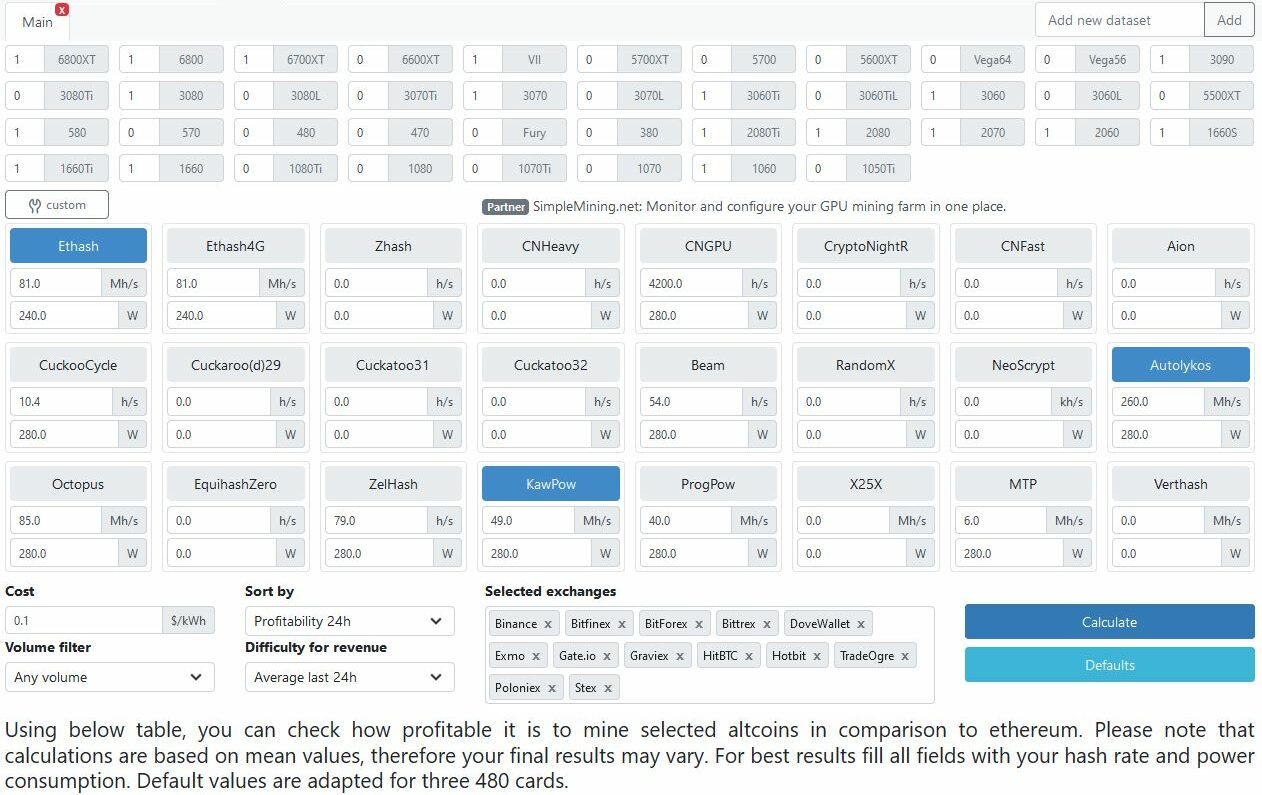 How to Use What To Mine
Choose Which Coin to Mine

As coin prices fluctuate, and difficulty goes up and down it often makes sense to redeploy your miners to different coins.  Whattomine is a quick way to monitor your rig and make sure you are mining the most profitable coin.  When you enter your rig information into the calculator it will tell you which algorithm is the most profitable at any given time.  Checking this lets you know whether you are mining the best coin at any given moment.

Check your hash rates versus expected rates

The Whattomine database is great for comparing your hash rates versus what other miners are getting.  It's a quick gut check on whether your cards are hashing within expected ranges.  When you select your GPU, you can compare the hash rate that you are getting on your miner to the hash rates in the database.  This lets you know whether your cards are performing as expected and can be an indicator of the quality of your overclock settings.

Determine Payback Rates on Card Purchases

If you're wondering which card to purchase next, Whattomine is a great tool to help you estimate the payback time for any given card.  If you compare daily profitability versus equipment prices you can figure out whether the gear you are looking at is the best buy.  Using the number of days needed to pay back mining equipment you can rank potential purchases to determine which are the best deals.  The lower the number of days required to pay back the purchase price, the higher the return on investment.
Mining Pool Stats
Mining Pool Stats is a database of known proof of work(PoW) mining pool websites with real-time hash rates.  To use the site, first select your coin type, and then you will be taken to a page that lists pools by total hash rate.  The pool fee, payout type, and payout thresholds are all listed for each pool.

How to Use Mining Pool Stats
Find Out Which Mining Pool Has the Highest Hashrate

The higher the hash rate, the more blocks the pool will find and the more likely miners will get paid out more regularly.  Smaller pools are more subject to luck which means less consistent payouts.

Choose a Pool Based on Payout Type

The various payout types impact how much you earn from solved blocks.  This crypto-mining website lets you choose pools based on your preferred payment type. To find out more about the benefits of different payout options read our article about pool payout types.

Compare Mining Pool Fees

Each mining pool charges different fees.  Mining Pool Stats lists all the fees in one spot so you can compare different mining pool costs and decide which works best for you.

Note: Some pools charge network gas fees to transfer funds to your wallet.  Always check the pool itself to find out the additional costs.
Mining Pools Profits
Mining Pools Profits is a site for Etherium crypto miners.  It's similar to  Mining Pools Stats, but with a few key differences.  It lists mining pools in order of profitability based on the average mining returns from the past 56 days.  Returns are listed for the last 24 hrs, last 3 days, 7 days, and all the way up to 56 days.  The mining returns can be modified to account for stale and invalid share rates that you may have experienced on a given pool. It also lists the average luck of the pool, aka how many block rewards were received versus expected.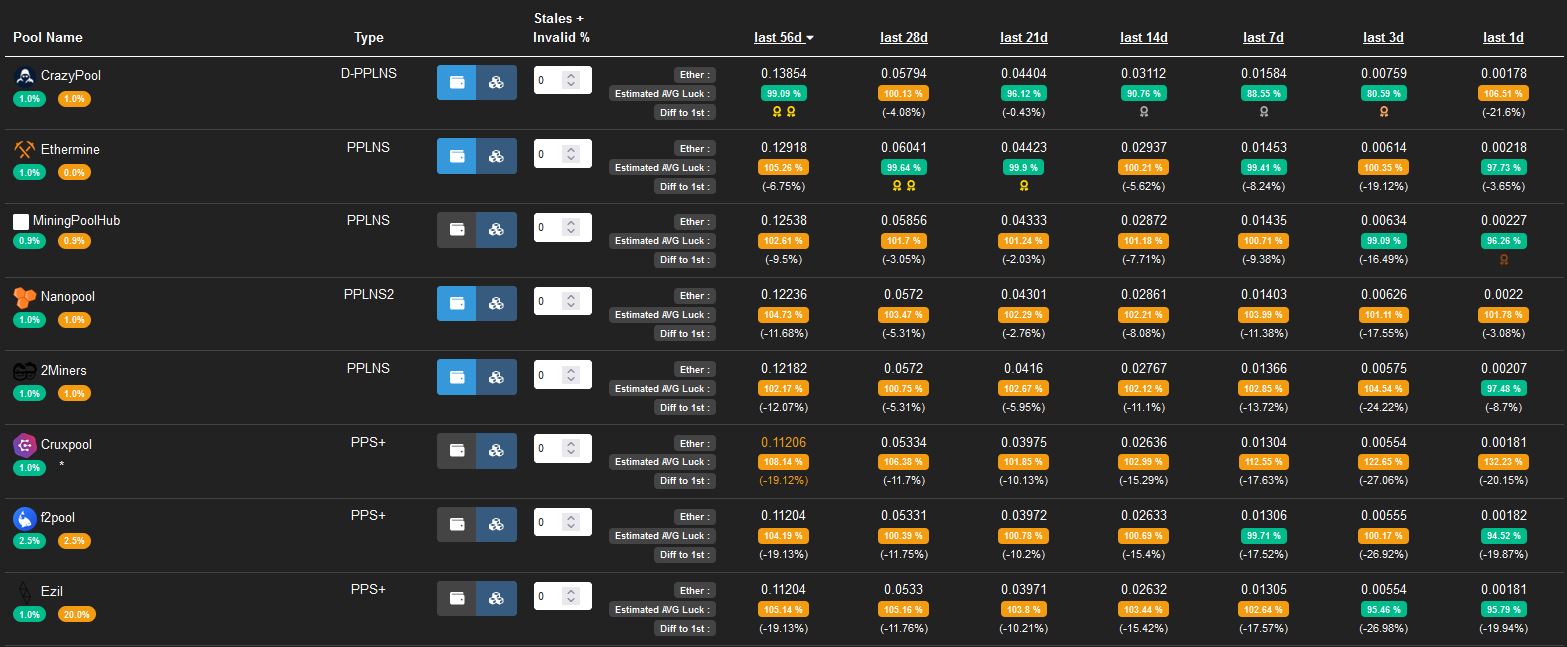 How to Use Mining Pool Profits
This tool is a great way of checking pool returns including stale and invalid shares, making the rates more realistic.  This can be used to determine the profitability of mining to higher latency servers with higher stale shares versus low latency servers with fewer stale shares.  There are often serves with lower costs, but higher ping rates.  You can use this website to determine whether higher mining returns can compensate for losses due to stale shares on these pools.
This is our go-to list of the top 3 crypto mining websites.  With these resources, you can make decisions about future purchases, which coins to mine and which pools to mine to.
Let us know in the comments which crypto mining sites you use the most!

Hi I'm Mike, an active crypto investor DeFi enthusiast and crypto miner. I have been involved in crypto since March of 2021 and in DeFi since May 2021.
I'm also an avid outdoor adventurer!